Chase two took us down into Oklahoma and after booking into a motel in Norman, OK, we chased growing towers in the SE
of the state. Finally caught up with the storm in the Ada area where we tried almost in vain to get a good observing position,
the extensive tree coverage of the region hampered observations.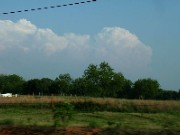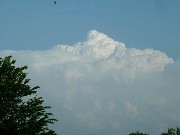 There were times when reasonable updraughts and wallclouds were observed from the 2-3 separate cells before they merged.
At that point we decided to head further eastwards towards McAlester, where a better defined and individual cell was becoming
more active. The NOAA transmissions on the 162MHz VHF band were indicating that this cell was tornado warned.
The travelling eastwards was taking us onto secondary roads and as it was getting dark I finally decided to turn around and
retrace our steps before getting totally lost. We weren't able to get under this cell, but from vantage points got some good
video of the active lightning display.

It was a long haul back to Norman and finally arrived at the motel ~ 1am


The next day (10th May) took us across Oklahoma and into Arkansas, stops in Fort Smith, AR and Little Rock, AR for food,
pitstops and some pix of minor cell growth. Several times they looked promising but didn't come to much.
Tonite was spent in the town of El Dorado near the AR - LA border.



The following day (11th May) took us south into Lousiana, west on I-20 and into Texas via Shreveport, AR. Heading across
to Dallas and after a circuit around the inner city we found a motel on the south side of downtown Dallas.
I did go out on a chase that nite to the inner west side between Dallas and Fort Worth and observed some good CC and CG lightning, and finally made it back to the motel after getting lost for a while.

Pics taken with Fuji S7000, 6.3mpix digital cam



Send an Email to Dave
Last updated: 6 June. 2007 : © Dave Nelson 1996

To Top

To Chase Index