Storms of 10 Nov 2006


Two minor cells over western Sydney



This was an afternoon where a couple of minor cells that came across the western suburbs
of Sydney. None of them were overly active, and only the first one, that I observed from
Rhodes S/C carpark, produce a few lightning strokes.
The clear outlook to the west from this carpark and being only 10 mins travel from home
has made it my new favourite observing location.





Below.... The left pic is from West Ryde near home, and shows the tail end of the above cell
as it passed by to my north. The right pic was a new cell I chased out to Westmead/Paramatta
to meet. Again nothing spectactular, just a good shower of rain.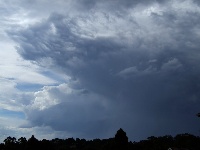 copyrite Dave Nelson 2007
Created 31 Aug 2007