Storms of 12 Jan 2007


South of and over Penrith area


This was a beautiful looking cell with at times a well formed base. I first saw this one forming when I was in the
Castle Hill area finishing a job. Raced down the M7 then west on M4 and onto sthrn side of the Northern Rd.
found a good spot to video and photo. Then chased the storm via Mulgoa to Jamisontown (west side of Penrith).
There was a good number of CC's and CG's but was more interested photo'ing the storm's structure.

1st two pics, Richmond Rd, nthbnd. Next pic from Northern Rd, sth side of M4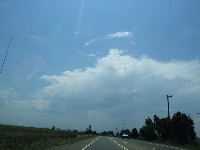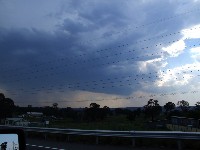 1st two pics from Northern Rd, sth side of M4, last two pics from Jamisontown area.


copyrite Dave Nelson 2007
Created 12 Feb 2008

To Top

To Chase Index